Admission to the Specialist Palliative Care Unit (SPCU) Inpatient Ward
Patients who are admitted will ordinarily have progressive incurable disease, complex symptom control or psychosocial, spiritual or end-of-life care issues that cannot readily be managed by their current care provider(s).
Patients are admitted to the SPCU wards for
Symptom control, including rehabilitation
End-of-life care
Respite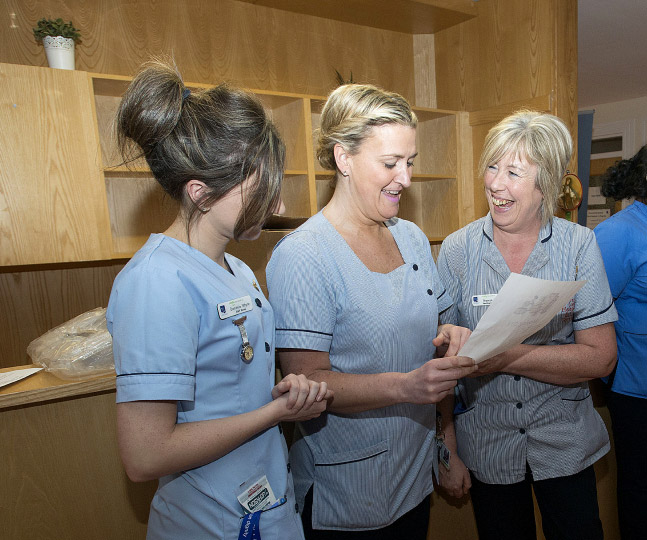 Daily admissions meetings are held to discuss new inpatient referrals, and to review the cases on the waiting list; this allows us to prioritise admission according to need. Over 90% of patients accepted for admission will be offered a bed within a week
Only patients aged 16 or over can be admitted
Acute hospital referrals must be reviewed by the hospital's Specialist Palliative Care (SPC) team before the patient can be considered for admission
Referrals for admission of patients not previously known to a SPC service, or who live outside the catchment area of the OLH&CS community services must be discussed with one of the palliative care consultants.
Patients and families are welcome to visit the SPCU when considering admission. This can be arranged through contacting the Patient Services Office.
OLH&CS offers planned respite admissions for patients known to our community-based services. Each referral is made and coordinated through the patient's community based palliative care team.
Situated within the Anna Gaynor House residential unit, the Supportive Care Beds (formerly Level 2 palliative care beds) cater to a separate cohort of patients, with generalist palliative care needs. The management of these beds is coordinated through Older Persons Services.
For more information, contact the Patient Services Office: (01) 406 8790
Please attach any available information in relation to treatment or clinical updates, including:
CT/MRI/Other radiology reports
Lab reports
Hospital discharge summaries
Hospital outpatient clinic letters
Any other relevant information
Completed referral forms plus supporting documentation should be emailed.
Harold's Cross
(palliative out-patient department services)
Discharge from Specialist Palliative Care Services
Specialist palliative care needs can change over time. Frequently the progressive nature of the disease necessitates increasing SPC input. However, in some patients needs may decrease or stabilise such that they no longer require specialist palliative care. In the latter group it is appropriate to consider discharge with ongoing care from other health care providers. Such decisions will be made following multi-professional discussion, with the patient and family being involved in the discharge process. The patient, the referring team and all relevant health care professionals will be advised of the decision to discharge in advance. It is important to note that patients can be re-referred should they develop specialist palliative care needs once more.
Discharge Criteria
A patient may be discharged from specialist palliative care if:
There is a change in disease status such that the patient no longer has any specialist palliative care needs e.g.

Investigations reveal less advanced disease than previously thought
Following response to treatment
Disease evident as only slowly progressive

There is symptomatic improvement such that the patient no longer has SPC needs.
Rehabilitation goals have been achieved.
Following initial assessment, it is determined that the patient does not have SPC needs and that ongoing needs are more appropriately met by other health care agencies.
The patient, following informed discussion, requests discharge from SPC services.
The patient or family persistently prevent effective specialist palliative care input e.g. restricting access for assessment. The SPC team are, however, always available to offer support to involved healthcare professionals.
When a patient is discharged from the specialist palliative care service, their General Practitioner, hospital team and other professionals as appropriate are informed in writing. Patients can be re-referred at any time by their GP or hospital or Primary Care team.
Do you have any further questions?
Urgent referrals
If the Urgency of Referral is marked as "2 working days", the referrer must contact the Community Palliative Care Team (CPCT) by phone and speak to a CPCT nurse manager.
Contact Us
For all general queries please contact the main reception at: