Visiting times
We have implemented a range of changes and protections to prevent the spread of COVID-19 in accordance with national guidelines.
Visitors are always welcome and we have no set visiting hours. Our doors are always open to family and friends.
If you wish to have visitors restricted, please bring this to the attention of the nursing staff and we will do our utmost to support your request.
We ask that you respect the privacy of others and that you limit the number visiting at any given time to a maximum of five people.
Children are always welcome but must be supervised at all times.
Pets are an important part of our families and are welcome to visit. Please check with the Ward Manager in advance.
All visitors should clean their hands on entering and leaving OLHCS.
Be advised that visiting restrictions may apply in the event of an Outbreak.
Please do not visit if you have gastro symptoms, symptoms of a cold or flu, are COVID-19 positive or are a close contact to a COVID-19 positive person – exceptions can be made on case by case basis, please talk to us.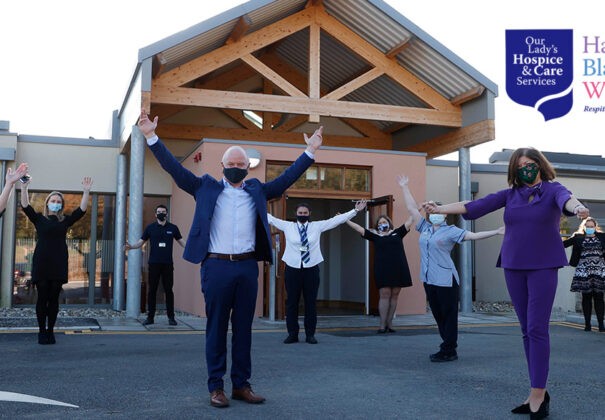 Welcome to Wicklow Hospice.
How to get here
Parking
There is free parking on site.  When you arrive at the entrance to Wicklow Hospice please press the intercom.  You will be asked who you wish to visit and the barrier will be raised.  There is free onsite parking in the lower car park and the car park close to the front door.  There are also disabled parking bays in both car parks.
Welcome to Wicklow Hospice.
General facilities
Spacious Palliative Care Bedrooms
Family sitting room
Family overnight facility
We have limited access to an overnight room for family members. In general, this is only offered to those families whose loved ones are in the last days of their life. However, please note that every specialist palliative care bedroom has a couch that can fold-down into a bed if required so that you can stay with your loved one. Unfortunately, please note that longer term accommodation cannot be provided.
Restaurant
Restaurant is open for breakfast and lunch daily.
Reflection room
Free Visitor Wi-Fi
Children are permitted to visit
Please check with the Ward Manager in advance.
Flowers are accepted in the Hospice
The Hospice is a smoke-free campus
However, there is a small designated smoking shelter for residents and visitors on the grounds.
Letters and parcels are…
delivered to the wards on a daily basis. Patients can easily post letters and can contact their ward clerk in this regard. Only letters bearing a postage stamp will be posted.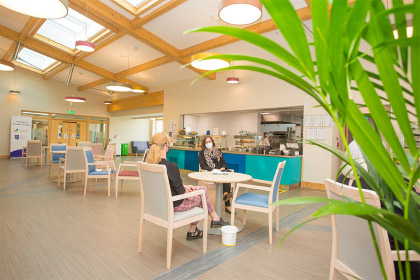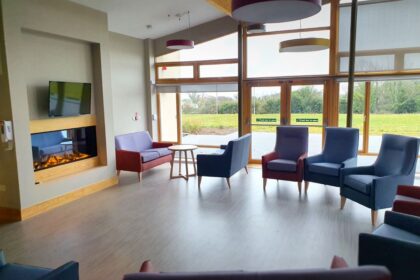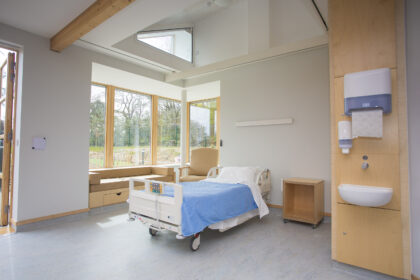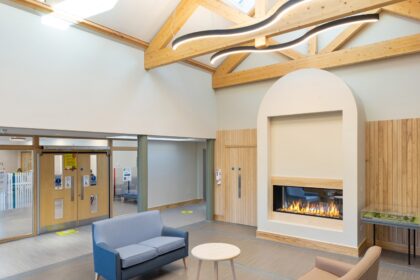 Local amenities
Wicklow Hospice is located directly across from Magheramore Beach.
Wicklow town is 7kms away with numerous restaurants and pubs.
Contact us
Wicklow Hospice: Magheramore, Co Wicklow, A67 A446
T: +353 (0)1 406 8888 | E: wicklowhospice@olh.ie